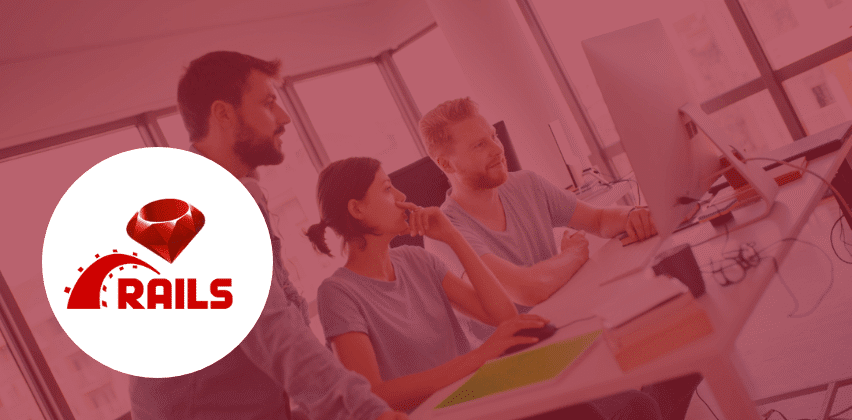 Ruby on Rails is one of the best frameworks for web development. Any Rails project would take around 25% to 40% less time. It is a popular technology that ensures web applications are dynamic, scalable, and affordable.
Ruby on Rails software development is also known as "the startup technology". Because it offers rapid product development, startups prefer it for their MVP. But why should one choose Ruby on Rails in times when there are frameworks like Django, Flask, and others that enable swift web development?
There are over 3 million websites powered by Rails. Some of the industry giants use Ruby on Rails in their technology stack. Airbnb, Github, Basecamp, Shopify, are a few examples of the leading companies that use Ruby on Rails development services for their application.
This article will explore the reasons why Ruby on Rails software development is the first choice for developers and companies, even today. While the pandemic has changed the dynamics of web development, a Rails project is increasingly becoming a preference due to several reasons. Let's look at them in detail.
Why choose Ruby on Rails Development Services?
Before we move on to why companies should use Ruby on Rails, let us try to understand what makes it a popular framework - starting by what it is.
Ruby is an object-oriented programming language. It has a readable syntax, which is similar to the English language. It is powerful, and the power is augmented by the framework.
On the other hand, Ruby on Rails is a web development framework that uses the Ruby programming language. Introduced around 9 years ago, Ruby on Rails simplifies coding. It enables developing complex websites and web applications with ease. Ruby on Rails developers have built some of the most popular websites that had complex requirements, using Ruby on Rails development services.
Ruby on Rails software development is suitable for a lot of different industries. It is the perfect choice for E-commerce, FinTech, Healthcare, Informational Portals, SaaS solutions, and many more. A leading website like The Fifth Collection is a perfect example of the power of Ruby on Rails.
Let's look at why companies are willing to utilize Ruby on Rails even after so many years. Here are the reasons they choose Ruby on Rails development services -
40% faster development
It is a fact known to all Ruby on Rails experts that the framework reduces the development time by 25% to 40%. The faster development ensures that companies can reap the benefits of opportunities and get more time to market their products. Faster MVP development enables startups to launch products early in the market and achieve a competitive advantage.

Simple and readable
The main thing that makes Ruby on Rails developers admire the framework is because the language is simple, readable, and easily compatible with Rails. The syntax is so easy that beginners can begin developing Rails projects in a couple of months. Companies hire Ruby on Rails developers with sufficient experience and deploy them on applications in no time.

Affordable
Ruby on Rails development services are extremely affordable. Why? The reasons are all interconnected. First - since the process takes less time, it takes fewer man hours to build the application. It means less money to pay to the developers. Second, companies can hire Ruby on Rails developers at an affordable price. Third - the framework is open-source so there are no licensing fees.

RubyGems
One can say that RubyGems are one of the best reasons that make Rails the perfect framework. They are plugins or third-party apps that save a lot of time while building applications. There are gems for almost everything - payment gateway integration, testing, and more. These plugins are extremely helpful in Rails upgrade, ensuring that the company stays at the top version of the framework.

Massive community
Ruby on Rails has one of the biggest developer communities in the world. It has one of the largest repositories on GitHub. The community offers resources, tools, techniques, tutorials, and support for different projects. Ruby on Rails experts collaborate across the globe on web applications and projects to generate innovative ideas for development.
What is the Cost of Ruby on Rails Development?
The cost of any Rails project depends upon the features and other factors. Since every Ruby development company provides custom web and mobile development, the cost varies from project to project. Some companies like BoTree Technologies offer dedicated Ruby on Rails developers for $2800 per month to take care of specific web application requirements.
In general, any product using Ruby on Rails software development can cost around $40,000 - $100,000. It depends upon the industry, functionalities, and scalability of the application. In essence, an app's estimate from a Ruby on Rails development company will give a better idea about how much it will cost to build the application.
Summing Up
Ruby on Rails is a web development framework that is known for its speed, power, scalability, and flexibility. The cost of a Rails project depends upon the customizations and even the company's budget. But it is safe to say that affordability and rapid MVP development makes it perfect for web applications.